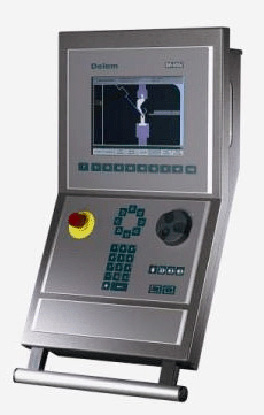 | | |
| --- | --- |
| | CNC Delem DA-65W-Made in Netherlands |

| | |
| --- | --- |
| Ffatures: | ?2D graphical programming?3D visualisation in production mode?10 TFT color display?Full Windows suite?USB keyboard & mouse interface |

FUNCTION:
Product description::

The DA-65W(CNC,DELEM) press brake controller combines user-friendliness with efficient programming and reliability,

increasing machine productivity.

The latest graphics technologies enable real scale representation within Delem's familiar intuitive user interface.

The system offers 2D graphical programming that includes automatic bend sequence calculation and collision detection.

Together with self-learning databases this will lead to a good result of the desired product.

The full 3D machine set-up includes multiple tool stations and offers true feedback on product feasibility and handling.

Highly effective control algorithms optimise the machine cycle and minimise set-up time. This makes using press brakes easier,

more efficient and more versatile then ever.

Windows® networkingensures easy integration in your production network. The controller can be accessed from anywhere in the

network and product data can be stored at the desired network locations.