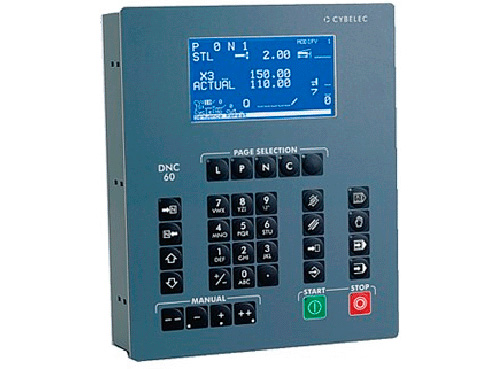 | | |
| --- | --- |
| | CNC CYBELEC DNC60-Made in Switzerland |

| | |
| --- | --- |
| Ffatures: | The DNC 60 is designed for multi-application purposes.Depending on the software it is equipped with, the DNC 60 can be used for synchronized or non-synchronized press-brakeswith up-stroking or down-stroking ram and shears. Its easyprogramming allows the machine manufacturer to configure all axes, inputs/outputs and auxiliary functions according to their needs. |
Product description::

The DNC 60 numerical control can control up to 4 digital axes and many auxiliary functions. A backlight LCD display (130x75mm)

as well as a simplified keypad with large keys provide a high comfort of use comparable to that of a high-level numerical control.

Thanks to CYBELEC's know-how, this NC offers quick programming which is appreciated by all machine operators.The

DNC 60 is designed to be easily integrated into a control panel or into the electrical cabinet. Well designed, the housing

protects the control both electrically and mechanically, and has its own mounting hardware.




The DNC 60 holds all the electronic components on one single card using SMD technology. The FLASH memory, as an option,

allows updates to be made to the software via the RS232 link. Simple commissioning as well as one single 24VDC-power supply

considerably reduce the installation and cabling costs.

Developed on a single board with SMD, ASIC and multiprocessors, this NC gives the operator the performance and reliability they

always wanted.An internal backup allows the operator to restore manufacturer settings to the press-brake at any time. This gives

the press-brake owner more confidence.The keyboard has large keys that allow the operator to program with gloves on. A wide

range of languages are available on the DNC 60.

All DNC 60 come with CYBACK.

CYBACK is a CYBELEC backup/restore program under Windows for your machine parameters, tools and parts.
It also allows you to save your data on a PC via RS232, thus allowing an unlimited number of programmed parts to be stored.

Bundled Offline PC software

All DNC 60 PS, PC, PL and P versions come with PC 1200 offline software.

This program allows you to prepare your programs, calculate offers and check the feasibility of parts in your office on a PC. No time

is wasted on the machine.

Comprehensive range

DNC 60

PS, PSS:

Numerical control for synchronized press-brakes. Configurable from version PS, the version PSS is to be used for

single cylinder presses.

Standard configuration: Y1-Y2, X-R (Max. 2 motor axes). The DNC 60 manages standard hydraulic or mechanical crowning systems

and pressure proportional valve, calculates the bend allowance, and offers a simple page for programming parts in just seconds.

This control integrates all functions to meet with the EC safety rules.

DNC 60 PC:

Identical to DNC 60 PS, but for

press-brakes

with mechanical (or hydraulic) stops and beam control using a linear

Max. 3 motor axes.

Standard configuration: Y0-Y, X-R. The beam management with the linear encoder allows the automatic change of the TDC

(top dead center) and PP (pinch point) in each sequence, without adjusting the switches.

DNC 60 PL:

Press brake

with hydraulic stops. A single linear encoder on the beam provides beam position to the NC. The

movements and the stops are controlled ON-OFF valves managed by the NC. The beam parallelism is maintained by a

torsion bar of a mechanic-hydraulic system.

DNC 60 P:

Identical to the DNC 60 PC, but without beam control with a linear encoder.

Standard configuration: Y, X-R or other combinations (max. 3 motor axes).

DNC 60 G:

Specifically designed for shears, this numerical control is as simple to use as a

"go to" system

.

Standard configuration: Y, X-R or other combinations (max. 3 motor axes).

The EasyCut page offers excellent readability, using icons for immediate understanding.

Enter the material thickness and back gauge target, press Start or the foot pedal. The machine adjusts itself and the

operator can proceed with the cut.

Need to reduce the cutting length? Just enter the cut length.

The DNC 60 G can also be programmed as a full numerical control, with sequences, part programs, etc.

DNC 60 G manages the back gauge, back gauge retraction, back gauge removal and automatically adjusts the rake

angle, blade gap (1 or 2 actuators) and cutting length. The DNC 60 G can display predefined messages to the operator.