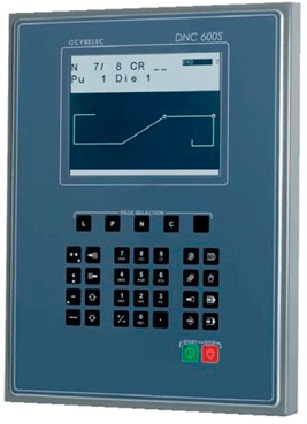 | | |
| --- | --- |
| | CNC CYBELEC DNC600S-Made in Switzerland |

| | |
| --- | --- |
| Ffatures: | 1.The DNC 600S numerical control with 2D graphic display is specifically designed for sheet metal working.2.All DNC 600S come with CYBACK.CYBACK is a CYBELEC backup / restore program under Windowsfor your machine parameters, tools and parts.It also allows you to save your data on a PC via RS232, thus allowing an unlimited number of programmed parts. |

FUNCTION:
Product description::

The DNC 600S numerical control with 2D graphic display is specifically designed for sheet metal working.

Depending on the software installed, it can be used for synchronized or non-synchronized press brakes, of either up-stroking or

down-stroking type (see list of versions below).


The standard version of the DNC 600S numerical control can control up to 4 axes, of which two are synchronized hydraulic axes,

specifically designed for press-brakes.


The large monochrome screen and the simplified keyboard with large keys make the DNC 600S easy to program, even with

gloves on.

The software allows the machine manufacturers to configure axes, inputs/outputs and auxiliary functions according to their needs.


Developed on a single board with SMD, ASIC and multiprocessors, this NC provides the operator with excellent performance and

reliability.


The DNC 600S has a FLASH memory that allows you to upgrade the software anytime via a serial link.
An internal backup allows the operator to restore manufacturer settings to the press-brake at any time. This grants the press brake

owner more confidence.

An auxiliary subpanel allows the manufacturer to integrate the main pushbuttons and switches of the machine with the programming

unit for more comfort and efficiency.

A wide range of languages are available for the DNC 600S.

Bundled Offline PC software

All DNC 600S PS, PC and P versions come with PC 1200 offline software.

This program allows you to prepare your programs, calculate offers and check feasibility of the parts in your office on a PC. No time

is wasted on the machine.

DNC 600S

PS, PSS:

Numerical control for synchronized

press-brakes

. Configurable from version PS, the version PSS is to be used

system and pressure proportional valve, calculates the bend allowance, and offers a simple page to program a part in seconds.

This control integrates all functions to comply with the EC safety rules.

a linear encoder. Max. 3 motor axes.
Standard configuration: Y0-Y, X-R. The beam management with the linear encoder allows the automatic change of the TDC

(top dead center) and PP (pinch point) in each sequence, without adjusting the switches.

DNC 600

P:

Identical to the DNC 60 PC, but without beam control by means of a linear encoder.

Standard configuration: Y, X-R or other combinations (max. 3 motor axes).