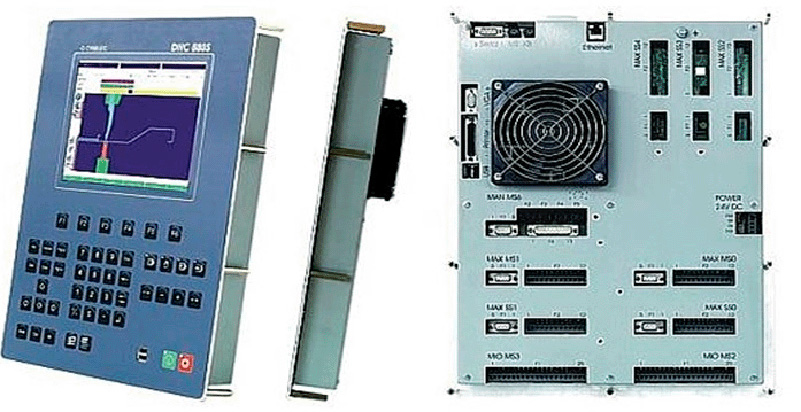 | | |
| --- | --- |
| | CNC CYBELEC DNC880S-Made in Switzerland |

| | |
| --- | --- |
| Ffatures: | 1.All DNC 880S PS, PC and P versions come with PC 1200 offline software.2.This program allows you to prepare your programs, calculate offers and check feasibility of the parts in your office on a PC. No time is wasted on the machine.3.DNC 880S PS: For synchronized press brakes. 4 or 7 axes, 2 of them synchronized axes for the beam。4.DNC 880S PC: Identical to the DNC 880S PS, but for press brakes with mechanical (or hydraulic) stops and beam control by means of a linear encoder. The beam man… |

FUNCTION:
Product description::

DNC 880S(CNC,CYBELEC) is specifically designed for sheet-metal working.

The Windows XP Embedded numerical control

Depending on the choice of software, it can control synchronized press brakes or mechanical / hydraulic stops, as well asupstroking

or downstroking press brakes (see the list of available versions below).

This compact numerical control unit is available in 2 versions: 4 or 7 axes either in panel or box design. Its 10-inch TFT

color screen, simplified keyboard with large keys and the 2D graphic software make the DNC 880S very user-friendly and efficient.

The basic functions are accessible by 6 subject-oriented keys giving access to clear and logically designed menu pages. The

bending solutions are displayed graphically in 2D and indicate possible collisions with the tools or the machine frame. The

system also shows the position of the sheet within the tools. The software allows machine manufacturers to configure the

axes, inputs/outputs and auxiliary functions according to their needs.

The DNC 880S manages the hydraulic or mechanical crowning system and pressure proportional valve, calculates the bend

allowance, and proposes a simple page for programming a part in just seconds.

The DNC 880S is also fully compatible with our DNC 80 and 880, making it an ideal control for retrofitting old machines.